2008 Portfolio Contest Winners
The Career Center held the sixth Career Portfolio Contest this past fall. This year's judges (employers and FSU faculty/administration) reviewed top entries to identify the highest quality portfolios. Congratulations to our winners!!
Pictured from left to right: Patrick Ayers, DeAnna Gore, Asha Maddali, Emma Longster, Dr. Jeff Garis (Career Center Director)
---
2008 First Place Graduate Portfolio - DeAnna Gore
DeAnna Gore is currently a fifth year doctoral candidate in the Department of Sociology with a research focus in social demography, specifically fertility and family issues in developing countries. She will be completing her degree this summer. Next year, she hopes to either be a postdoctoral researcher in population studies or to have job in a government or research consulting firm working with international health research.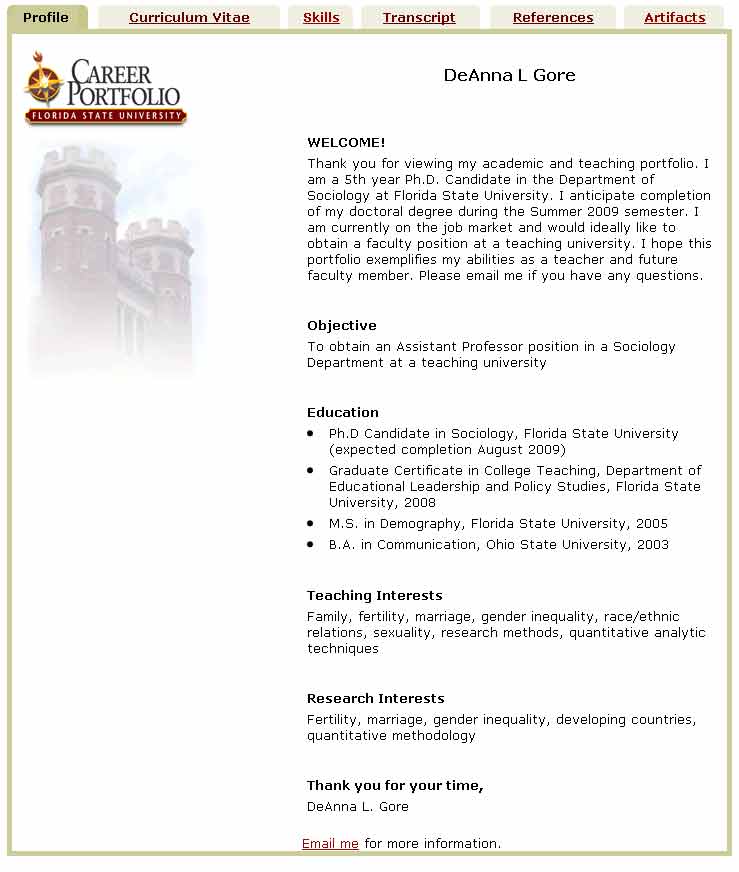 2008 First Place Undergraduate Portfolio - Emma Longster
Emma Longster is a graduating senior from Florida State University. She is completing a BA degree, double-majoring in Political Science (with Honors) and International Affairs. While at FSU, she completed internships in both the British Parliament and the Florida House of Representatives. In January 2009, she was employed by Envision EMI in Washington, DC as a staff member for the Jr. Presidential Youth Inaugural Conference. She hopes to work in Britain before pursuing a Master's degree in European Politics.
2008 Second Place - Patrick Ayers
Patrick Ayers is a senior who will be graduating this semester with a dual BS in economics and political science (minors in mathematics and political philosophy). After graduation, he plans on earning a Master's degree in economics. After that, he plans on pursuing a career in public policy analysis.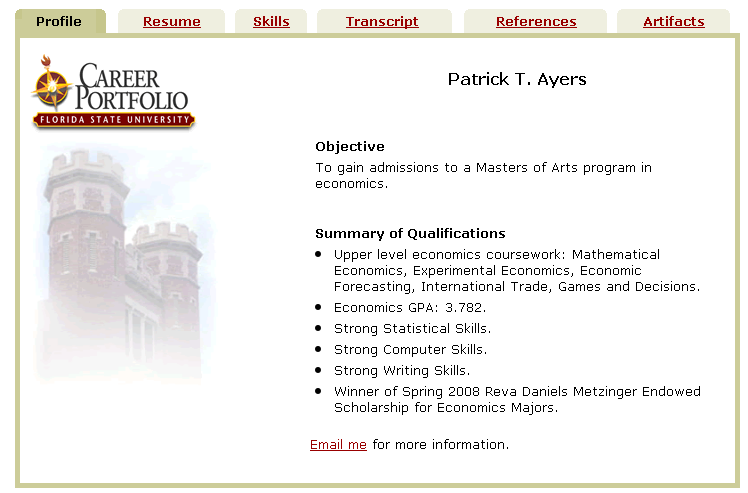 2008 Third Place - Asha Maddali
Asha Maddali is a senior majoring in Fashion Merchandising with a minor in business. She plans to move to New York upon graduation and embark on a career in trend forecasting that will allow her to fuse her creativity and business sense.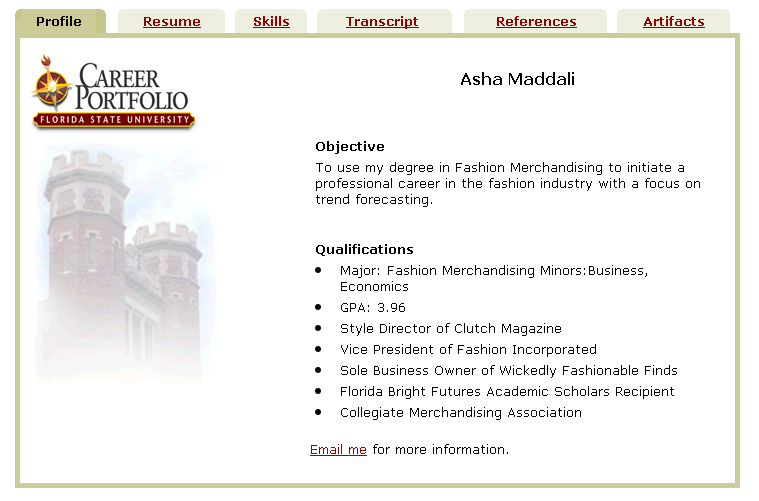 ---
Appreciation is expressed to our judges:
---
Florida State University | Faculty & Staff:
Professor Emeritus
Career Center

Center for Leadership and Civic Education
title-inside title-centered
2