It is our pleasure as Career Center staff to support FSU students at every stage of the career development process. We understand that each Seminole's journey is unique, and we are excited to assist as you plan your career. The Career Center offers several services to initiate and engage your personal career planning:
Career Advising
The Career Center at FSU provides both individual career advising and counseling to all FSU students, alumni, and members of the Tallahassee community completely free of charge. The Career Center offers both in-person and virtual drop-in career advising hours. 
Explore Majors and Careers
Research potential career paths and how they align with your values, interests, and skills. Explore salary data related to Majors and Careers at www.myfloridafuture.org
SDS 3340: Intro to Career Development
Learn and develop the necessary skills to engage in life/career planning. This class can be taken for one, two, or three credit hours.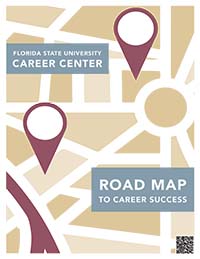 Use the Road Map as a guide to plan goals and activities that enrich and propel your career development throughout your experience at FSU and beyond.
Career Decision Making
Help bridge the gap from where you are to where you want to be.
Individual Career Learning Plan (ILP) (Fillable ILP)
Use the Individual Career Learning Plan (ILP) to organize your career decisions into small, manageable steps. 
Prepare for the Next Step
Whether you are getting ready for your first internship or exploring post-graduation opportunities, The Career Center is available to assist you in building your skills and taking that next step in your career.
NoleNetwork
NoleNetwork is FSU's online jobs database housing internship, co-op, and part-time and full-time job listings.
ProfessioNole Mentors
Want to expand your network but don't know where to start? Looking to job-shadow or perform an information interview? ProfessioNole Mentors is the tool for you! Log-in to ProfessioNole Mentors using your FSU ID and password to see a listing of professionals who have volunteered to serve as resources for current FSU students.
ProfessioNole Mentors Student Login
Interview Preparation
One of the best ways to prepare for post-graduate opportunities is to practice your interview skills. The Career Center provides access to numerous interview preparation resources including interviewing career guides, a 24/7 virtual interview platform, and mock interviews via Zoom.
On-Campus Interviewing (OCI)
Students can apply to interview with top employers at our state-of-the-art facility in the Dunlap Success Center. Learn more about eligibility and applying to an on-campus interview.
Virtual Interview Space
Students are able to request space to hold virtual or phone interviews with employers, scholarship boards, etc. in one of The Career Center's private interview rooms. We can only accommodate requests for Monday - Friday 8 a.m. - 5 p.m. Please complete the online form to begin the reservation process. You will receive an email confirmation of the reservation within one (1) business day. For questions, email HireANole@fsu.edu.
Create an Employment Strategy
Use these guides to help you create and execute strategies for finding employment. Visit The Career Center for drop-in career advising to work on developing your strategy individually with a Career Advisor.
Candid Career Videos
Use this online system to boost your employability skills by viewing videos on important career development topics, such as personal branding, job search strategies, networking and more!
Countdown to Commencement
Have you thought about life after graduation? The countdown is on! Read tips and tricks for how to prepare for the next step and make the most of your last semester at Florida State.