The FSU Career Center is pleased to offer you a free virtual training system that features a new and innovative way to help you prepare more effectively for interviews! Big Interview is an online system that combines training and practice to help improve your interview techniques and build your confidence.
You have at your disposal a variety of tools including:
Challenging, virtual mock interviews for all experience levels and dozens of industries
A database of thousands of interview questions with tips on how to answer them 
A comprehensive video training curriculum covering all aspects of landing a job
Register for Big Interview
Big Interview Account Activation
Visit Big Interview to register for an account
Register for a free account using your @fsu.edu email
Click Register in the top right corner to activate your account
You will be prompted to fill out the associated fields including First Name, Last Name, Email and Password, then click Create My Account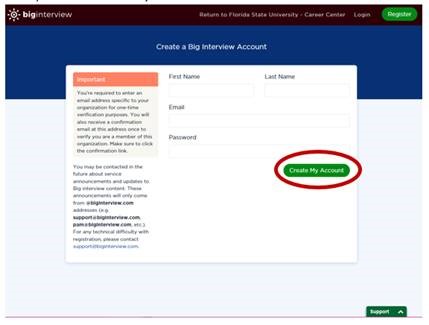 You will then need to activate your account through the automated email Big Interview will send

Click the link in your email
Input your Age Range, Gender, Experience Level, Postal Code and Country to finalize your account
You can then begin accessing features of Big Interview
To access virtual mock interviews, click "Practice" at the top right corner, then click "Practice Interviews"

*Note: Mock interviews completed on Big Interview will not be critiqued by FSU Career Center staff. Big Interview all feedback on your interview performance. 
CLICK HERE for additional interviewing resources from The Career Center.