Describe your job search process. What were some challenges you faced or things you learned from the experience?
As a graduate student, I've learned to look for and take advantage of the resources FSU provides their students who are looking for a job. I've learned not to take these things for granted and that they really provide a lot of help you would not otherwise get looking for a job outside of a university setting.
If you used any Career Center services, resources, or events to obtain your job offer, what were they? How did they support your application process?
The College of Communication and Information Career Advisor, Kate Herron, was great to work with and helped me prepare my resume and talking points before Career Center events like Seminole Futures and Seminole Success Night. Her advice definitely gave me both the confidence and the content I needed to approach potential employers.
Have you participated in any experiential learning opportunities (Internships, volunteer experiences, research, leadership roles, military experience, etc.)? How have these prepared you for moving into a full-time role?
This position will not be my first full-time post, but I have learned so much about working as a team throughout my classes and my graduate assistantship and residencies.
What advice do you have for current students that will be launching a full-time professional job search?
There are people here on campus that want to help. Their job is to help you, so take advantage of these resources before going it alone!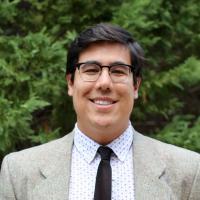 Alvaro Gabaldon
"There are people here on campus that want to help. Their job is to help you, so take advantage of these resources before going it alone!"
---
Major: Integrated Marketing Communication, Class of 2017
Company/Organization: Newell Brands