Describe some of the steps you took to obtain your internship
When I started looking for internships, I made an appointment with my Career Liaison. I brought my resume with me, and she helped me tweak a few things. We talked for a while about what my interests were and she gave me suggestions on companies she knew would be a good fit for me. She also suggested I use SeminoleLink to look at internship opportunities that are updated regularly by The Career Center. When I found VISIT FLORIDA, I started reading about the different departments they had internships for and I knew right then that I wanted to intern with VISIT FLORIDA's Industry Relations department.
How far in advance did you prepare?
I started preparing for my internship search in April 2016, which gave me a good 4 months or so to make sure I would have an internship by the time Fall classes started in late August. I ended up getting hired mid-August.
If you used any Career Center services or events to obtain the internship, what were they? How did these help you in landing the internship?
I first reached out to the Career Liaison at the time, Lauren Kume. She helped me narrow down the type of internship I was looking for. From there, I used SeminoleLink like nobody's business. The website is very user-friendly and made it easy to view which internship opportunities were available and recommended by The Career Center.
What was a typical day like?
A typical day usually began with organizing my office space, checking any emails that were sent to my inbox, and gathering any urgent tasks that needed to be completed first. After that, I would make a list of the tasks that needed to be completed by the end of the week, and I would add them to my calendar that was shared with the department I interned with. There were several daily tasks that would automatically send to me that I needed to make sure were cleared out. These tasks were anything from setting up Free Web Listings for VISITFLORIDA.com and managing reports that would find errors on Partner's accounts using the software Salesforce. On Friday's, I would work an (8) hour day, and would usually have more projects sent my way.
What are some major takeaways from your experience? How will these help prepare you for the next step after graduation?
Major takeaways from my experience interning with VISIT FLORIDA's Industry Relations department included valuable office experience, learning how to manage my time/projects/deadlines, working in a team-oriented environment, and staying on top of my workload.
Did this experience help clarify your career path? How so?
Yes! During my time as a student at Florida State University, I kept my options open while researching the various jobs that I could potentially apply for using my Editing, Writing & Media degree. After interning with VISIT FLORIDA, which is Florida's Official Tourism Marketing Corporation, I knew I wanted a career in the Marketing field. I'm currently hired full-time with VISIT FLORIDA thanks to my internship and Career Center services.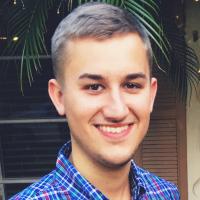 Sam May
"After interning with VISIT FLORIDA, I ended up being hired full-time!"
---
Major: Editing, Writing, & Media, Class of 2016
Internship Experience: VISIT FLORIDA
LinkedIn: https://www.linkedin.com/in/samuelmay5