Describe the steps you took to obtain your internship/research opportunity/fellowship.
At the beginning of every semester, I routinely visited The Career Center to receive honest and constructive feedback, update any new line items on my resume from the previous summer, and tailor the perfect cover letters to individual companies to which I applied. Candid and critical feedback are what differentiates The Career Center at Florida State University, shaping my personal and career development, and over the years, cultivated an opportunity for me to learn and to grow. Once I felt confident on paper, I refined my story and honed in on what truly motivated me – my family – which solidified the drive and determination to realize my goal of being in New York City for the summer.
How far in advance did you prepare and begin applying for your experiential learning opportunity?
In the process of utilizing The Career Center's programs, I started preparing for interviews and submitting applications as soon as they became available, which was toward the end of the summer of 2017. For months, I wouldn't hear back, but I was slowly invited to preliminary video and phone interviews, which ultimately turned into several in-person "superdays." I quickly started reaching out to the most "believable" people I knew – friends who have either recently completed similar internships in New York, had already gone through similarly lengthy interview processes, and most importantly, my parents and mentors who always have an abundance of wisdom and advice at the ready. I repeated this process for months. I would be invited to interviews, prepare for technical and behavioral questions, and seek out the advice from those closest to me; however, despite all the preparation, I was faced with the harsh reality of rejection after rejection.
After nearly ten months of this and summer quickly approaching, I called my long-time mentor to ask for help. (Don't be afraid to ask someone for help)! My mentor introduced me to a real estate developer in New York called Naftali Group, but offered no clear expectation of a summer internship. I later reached out to Naftali via email and after several weeks, I was able to set up a phone interview with their CFO. I spoke about my experiences, my determination to get to New York, and how I would add value to the group if I was given the opportunity to work there for the summer – all things that I had previously prepared for during mock interviews at The Career Center. Our conversation soon ended, and a few weeks went by. Fortunately, I was able to set up a second video interview with Naftali's Head of Acquisitions and their Head of Operations. Roughly five-minutes into my video interview, I was told that they weren't interested in hiring any interns for the summer, but that they'd still like to keep in touch. It was during this moment, where the familiar feeling of rejection overwhelmed me. In addition, the fact that it was already early May reaffirmed this feeling.
As soon as the interview wrapped up, I called on my mentor who said, "you need to get on a plane and convince them." I decided to do just that. I scraped together what money I had at the time, sent my suit to the dry cleaners, and told Naftali that I'd be in town in a couple of days and that I'd love to meet in person. My video interview was on a Friday afternoon, and on Tuesday morning I had arrived in New York. My three-hour flight yielded a thirty-minute meeting, only this time, face-to-face. I viewed this trip as a calculated-risk which later served as an inflection point in my collegiate career and my desire to never let the fear of rejection define my path. Evidently, the fact that I spent the money to go to their office at a moment's notice was just enough for them to keep me around for another 12- weeks during the summer. It was certainly worth it.
If you used any Career Center services, resources, or events to obtain your internship/research opportunity/fellowship, what were they? How did they support your application process?
Florida State University has an abundance of resources readily available. In addition to The Career Center, and the various campus organizations that I've participated in, such as the Undergraduate Real Estate Society and the University Honors Program, simply the opportunity to build meaningful relationships with professors and other faculty has made all the difference in my own personal career development. It was important for me to find professors who I could speak to, ask for career advice, and to use as a soundboard at times when contemplating any career decisions I was considering. Often times, I was surprised to see how willing people are to help, so long as you're equally as willing to make an effort. Networking, by virtue of your surroundings, is one of the most undervalued and underutilized resources, that I'd strongly urge anyone to start doing.
Describe some of your responsibilities or duties during your experiential learning opportunity.
As an intern, I worked on both the acquisitions and debt capital markets teams at Naftali Group and played an active role in sourcing, underwriting, and performing any necessary due diligence for all condominium development projects throughout Manhattan and any value-add multi-family deals throughout the Southeastern United States. Toward the end of my internship, Naftali closed its first debt deal from a discretionary fund raised the prior summer. We celebrated as a team in the conference room, overlooking the heart of midtown. For the first time in over a year, I saw my work finally manifest into something tangible. To meaningfully contribute to an overall goal and to see that goal through, reinforced my desire to always keep working and to never settle when faced with adversity.
What was a typical day like "on the job?"
No two days this summer were ever the same; and the work never ended. I truly loved it. My days would always begin early in the morning, and I routinely built out financial models, prepared equity and debt books for our limited partners, drafted any term sheets to structure financing, and occasionally toured assets throughout Manhattan and Brooklyn. I regularly attended meeting with Naftali's investment committee, reviewed underwriting models to refine assumptions, and collectively discussed the most prioritized deals we were working on. While being in New York, I also made an active effort each week to either meet with mentors, other professionals in real estate, and to grab coffee with my previous interviewers, to not only catch up, but to receive their feedback. My internship this summer mirrored what it was like to work as a full-time analyst. The work was constantly evolving and my contribution grew as the internship progressed. It's always important to keep growing and to keep improving in everything that you do.
What are some major takeaways from your experience? How will these help prepare you for the next step after graduation?
Don't be afraid to fail! In fact, I'd almost encourage it to some extent. I've learned over the last year and a half that it's okay to make mistakes and to fail, as long as there's a meaningful take-away that results. It's important to learn from failure and to spend time reflecting on what you could've done differently. And remember, nothing worth having comes easy, so always fail forward. I'd also encourage anyone looking to take the first step at finding an internship to surround themselves with people who are not only willing to offer career advice, but who can guide you in the process. Start by reaching out to professors and work your way to becoming comfortable reaching out directly to professionals, whether by phone, email, or even through LinkedIn. Honest and genuine recommendations can also go a long way. The process of securing a summer internship, and by extension, a full-time job after graduation, can be made easier if there's someone in your corner who can speak to your skills and experiences.
Did this experience help clarify your career path? If yes, how so?
Having the opportunity to intern in New York this summer, and more broadly, to have had previous internships in real estate, have all afforded me the opportunity to define my own career path while allowing me to gauge whether or not real estate was something I truly wanted to pursue. The process of getting to New York for the summer was certainly not straight and narrow, but what resulted not only shaped my future path as I plan to graduate, but reinforced my passion for working in this business. Never stop working toward your goals, no matter how difficult it may be at times (it will get difficult)! The path to reaching your goals isn't supposed to be easy; however, The Career Center at Florida State University is the perfect way to streamline the process.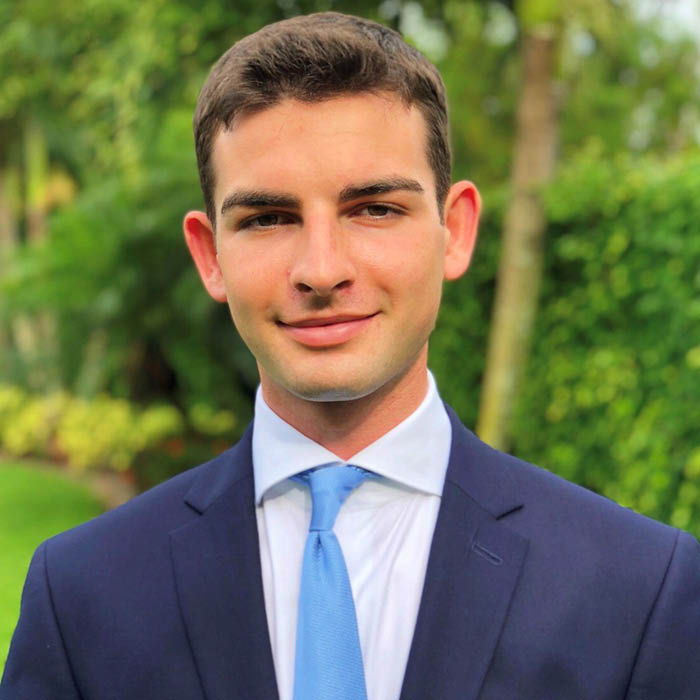 David Schoenberger
"The path to reaching your goals isn't supposed to be easy; however, The Career Center at Florida State University is the perfect way to streamline the process."
---
Major: Real Estate & Finance, Class of 2019
Company/Organization: Naftali Group
LinkedIn: https://www.linkedin.com/in/david-schoenberger-622866108/