Describe some of the steps you took to obtain your internship.
I've always wanted to go to Japan, but I couldn't afford the cost of studying abroad. Also, I wanted my first time in Japan to be more meaningful rather than simply sightseeing. One day, I stumbled upon a pamphlet from the International Programs office at FSU, and it had a section discussing internships in various European countries. It dawned on me that an internship is an alternative and affordable way for me to go to Japan, so I searched on Google to see if there were any. After many futile searches, I chanced upon the Ibaraki Christian University internship webpage, but the deadline was fast approaching. I decided to contact the internship supervisor directly to see if there were any spots still available, and I was encouraged to apply. In about a week and a half, I miraculously was able to complete my application, submit my resume, and find two recommendation letters. After that, I completed a Skype interview and my three references also did a Skype interview. Then, I was approved by the head of the English department at Ibaraki Christian.
How far in advance did you prepare?
I was determined to go to Japan, so I had started saving money back in February. At that time, I had picked up a second job and opened up a savings account. I even set aside some of my tax refund. Although I had begun saving money so early on, it wasn't until June that I applied to Ibaraki Christian internship program, and I wouldn't start interning until the end of September. It took me about seven and a half months to save up about $2,500.
If you used any Career Center services or events to obtain the internship, what were they? How did these help you in landing the internship?
I used The Career Center to help critique and improve my resume. Also, there was a very nice woman there who helped me figure out which FSU staff person I should talk to because I had to take a semester off. It was very helpful, and I am extremely grateful that this person made the process much smoother for me.
Describe some of your responsibilities or duties during the internship experience.
My job as an intern largely focuses on "Chat Hours." Chat Hours are intern-led conversation tables that give students majoring in English the opportunity to converse with native English speakers. Generally, we use various games and group activities that challenge students to practice their English skills. Aside from Chat Hours, we also hold private tutoring lessons for students that are planning to take the TOEFL, TOEIC, or Eiken exams. From time to time, we go into classrooms and assist the teachers with their lessons. Students also come to us looking for help on their homework, to correct their papers, and to sit with us during lunch. Interns also host at least one big event/party each month.
What was a typical day like?
Japanese universities are set up quite differently than American universities. For one, they have set class periods. Here is an example of a usual Thursday for me.
1st Period (8:40 – 10:10 a.m.): Staff meeting/preparation for Chat Hours
2nd Period (10:20 – 11:50 a.m.): Chat Hour
Lunch (12:00 – 12:40 p.m.): Eating with students/other English teachers
3rd Period (12:50 – 2:10 p.m.): Assisting in classroom
4th Period (2:20 – 3:50 p.m.): Chat Hour
5th Period (4:00 – 5:30 p.m.): Private Japanese lesson, where I'm the student
What are some major takeaways from your experience? How will these help prepare you for the next step after graduation?
My biggest takeaway from this experience was learning that being self-sufficient in your work is hard! I've worked several jobs before but usually it's either routine or I'm following someone else's instructions. This internship required that I come up with lessons on a daily basis and I have to lead it. Truth be told, there were many days where I wanted my supervisors to just tell me what I should do I didn't have to think. Generating creativity constantly is hard work, and I've gained even more respect for those who teach. Although the pressure was tough, this was one of the most fulfilling experiences I've had thus far. After graduation, I plan to use this internship experience to apply for the Japan Exchange and Teaching (JET) Program.
Did this experience help clarify your career path? How so?
I'm still not 100 percent certain as to what I want to do as a career, but I do know that I want to spend at least two or three years in Japan working as an English teacher. This experience, coupled with my homestay family, has made Japan my second home. I love the people, culture, and food, so I know I'll be back!
For anyone looking to go to Japan and wishing to challenge themselves, this internship at Ibaraki Christian University should be seriously considered. It's a great way to make friends with Japanese students in your age range, it costs less than $5,000 for three months (including airfare, rent, food, etc.), and it's a wonderful chance to cultivate your leadership skills. The intern supervisors, the faculty/staff, and your fellow interns become like your family. The experience is ultimately what you make it, but everyone works hard to ensure you enjoy it!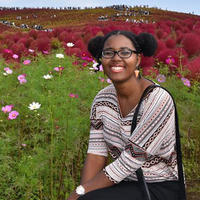 Ireney Duval
"Generating creativity constantly is hard work, and I've gained even more respect for those who teach. Although the pressure was tough, this was one of the most fulfilling experiences I've had thus far."
---
Student Internship Program Participant, Fall 2015Ibaraki Christian University, Japan
Major:
Psychology with a Minor in Japanese Language and a Certificate in Leadership Studies, Class of 2016