What were some Career Center services you used or events you attended?
I went to The Career Center for resume help. I was using a very juvenile format of my resume and The Career Center gave me the tools and advice to revamp my resume and make it stand out to future employers. Without their help, I am not sure that I would have gotten as many interviews as I did.
Describe some of the steps you took to obtain your job.
I have kept close relationships with my supervisors from my previous internships. It is so important to network and keep up relations for the future. One of my supervisors always said, "never burn a bridge," which applies to every aspect of life, especially when job searching. I found out about the job I have now because my past supervisor emailed me letting me know about the job opening and actually recommended me for the job. I made sure to have my resume up to date and practiced my interviewing skills, but it was truly the connection and good recommendation that helped me get this job.
How far in advance did you prepare?
I began preparing my resume in the beginning of May. I started looking for jobs in the end of July, tust before I graduated and I landed my dream job in the end of September.
What advice do you have for current students?
If I had advice to give it would be to be over prepared, but also to be patient. These things take a lot of time to prepare for and to find the perfect fit. Be excited to get interviews and make sure to participate in many mock interviews so that you have an idea of what an interview will be like.
Describe some of your job responsibilities.
Currently, I am the Director of Social Services at a nursing home. My responsibilities including admitting and discharging residents, being an advocate for these residents, communicating with families, completing psychosocial assessments, planning and leading support groups, documentation, being there for residents from day to day, and so much more!
What is a typical day like?
In a healthcare setting, there usually is never such a thing as a typical day!  I have a morning meeting at 9 with other staff such as nursing, dietetics, and activities to go over the census and what happened the night before. During the day I could have other meetings to discuss residents care, meetings with families, assessments to get done, admissions packets to go over, phone calls to make, and there are always things to document.
How did your experiential learning opportunities (internships, volunteer experiences, research, leadership roles, military experience, etc.) prepare you for moving into a full-time role?
My experiences in the past showed me what I liked and disliked. I have enjoyed both internships because I believe if you go in with a good mindset, you will enjoy and be successful. During undergrad, I was able to find my passion in working with elderly adults and this has contributed heavily to my job today. My time in my graduate internship was at a hospital, which I really enjoyed. This experience still helps me because I have to speak with social workers at a hospital weekly.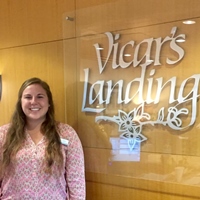 Lacey Langston
"I went to The Career Center for resume help. Without their help, I am not sure that I would have gotten as many interviews as I did."
---
Major: Master of Social Work, Class of 2016
Current Position: Director of Services, Vicar's Landing
Location: Ponte Vedra Beach, FL