Describe some of the steps you took to obtain your internship.
First, I had to locate various opportunities with professors and political campaigns.  I then applied and went in for interviews.  Ultimately, I earned two internships with AL Lawson for Congress and my program adviser at FSU.  In the fall, I interned with United States Senator Bill Nelson. 
If you used any Career Center services or events to obtain the internship, what were they? How did these help you in landing the internship? 
I would recommend Ms. Lauren Kume, Senior Assistant Director for Experiential Learning at Florida State University, for any advice related to internships, employment opportunities, and resume building. 
Describe some of your responsibilities or duties during the internship experience.
As a Communications Intern with AL Lawson for Congress, I edited campaign materials, created press releases and op-eds, and canvassed in local neighborhoods leading up to the August 30th Primary.  As an Editing Intern with Dr. George Boggs and Dr. Trevor Stewart, I edited scholarly articles in preparation for publication in mainstream education outlets. As an intern with United States Senator Bill Nelson, I answered phones, documented constituents' concerns, attended events on behalf of Senator Nelson, and utilized Microsoft Office to complete daily assignments. 
What was a typical day like?
A typical day with AL Lawson for Congress involved copyediting, phone-banking, and researching information related to AL Lawson and his opponents. Interning with United States Senator Bill Nelson varied from day-to-day as well.  The atmosphere was always exciting and the employees in their offices were always friendly and supportive—A typical day during all three internships was fun and challenging.     
What are some major takeaways from your experience? How will these help prepare you for the next step after graduation?
During all three of my internships, I improved in the areas of communication, cooperation, and 21st century technology.  I am a more punctual individual because of these experiences, and I believe each experience has prepared me for a variety of employment opportunities. 
Did this experience help clarify your career path? How so?
I believe these experiences opened my eyes to more opportunities—rather than narrow my options into a smaller category.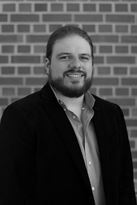 Robert A. Deason
"I believe each of these experiences have prepared me for a variety of employment opportunities."
---
Major: Master of Science in Curriculum & Instruction with an Emphasis on English Education and a Graduate Certificate in Publishing and Editing, Class of 2017
Internship Experience: Al Lawson for Congress, Dr. George Boggs and Dr. Trevor Stewart, and Senator Bill Nelson, Summer and Fall 2016