Describe the steps you took to obtain your internship/research opportunity/fellowship.
As a Political Science and International Affairs major, I knew that I wanted to take a summer to intern in Washington D.C. As a registered Democrat, I felt that I wasn't as active with my party and wanted to do more than just being a supporter. After research, I found the opportunity to intern with the Democratic National Committee. The application process was very similar to many others. They had us fill out our information and provide a personal statement as to why we wanted to intern for them. Then there was a phone interview and from there we were chosen.
I was interviewed for the Party Affairs and Delegate Selection Department, where I heard that they had over 1,000 applicants and narrowed them down based on our resumes and interviews. The Intern Program for the Democratic National Committee only selects 23 total intern and my department only picked one intern. When I was told that the internship was competitive I made sure to review my statement of purpose, resume, and prepare for interview questions. Soon after my interview, I was given the congratulations email on receiving the internship for the Party Affairs and Delegate Selection Department.
How far in advance did you prepare and begin applying for your experiential learning opportunity?
At the end of February, I started applying to internships and submitted my DNC Application on March 15th. I also made sure to research internships during winter break and kept track on when internship applications opened for the summer 2018. Through the application process I made sure to understand what the expectation of the interns were and what I should talk about to help relate what I have done at Florida State University to the Party Affairs and Delegate Selection Department.
If you used any Career Center services, resources, or events to obtain your internship/research opportunity/fellowship, what were they? How did they support your application process?
Through the Career Center I was able to find scholarships that would help with the expenses of covering for an internship that might not be paid. Luckily, the Democratic National Committee Summer Internship Program does give a stipend but DC is very costly. Being able to apply for scholarships was very helpful when the Career Center was able to provide the resources.
Describe some of your responsibilities or duties during your experiential learning opportunity.
The Internship Program with the Democratic National Committee has a lot of responsibilities for the Interns. One is the front desk where we would take phone calls and talk to constituents about their concerns. Within my department, I was tasked with briefings, creating the Daily Clips, attending Rules and Bylaws committee meetings, writing commemorative resolutions, and helping with anything the Party Affairs and Delegate Selection Department needed completed.
What was a typical day like "on the job?"
The typical day always started with me researching articles that had to deal with Party Affairs and Delegate Selection. This is a department that deals with a lot, so most of the research would be surrounded by the Rules and Bylaws Committee or any other DNC Committee, the Convention for 2020, and anything in regards to delegates. This would take about the first hour of my day. Afterwards, I would be assigned a project whether that would be weekly memos, briefings of meetings, or helping prepare supplies for the next in person meeting. Afterwards, it would be anything that is needed from helping cover the front desk or working on projects with other departments such as Political, Office of the Secretary, and Operations.
What are some major takeaways from your experience? How will these help prepare you for the next step after graduation?
The best takeaway is that I have learned a lot about the Democratic Party and this internship has helped solidify my future. Being able to meet the leadership and department heads I learned a lot about the future and where I could possibly go. This amazing experience has me wanting to stay active with the DNC even after the Summer. I have been offered opportunities to help from Florida and can see my future going toward a job at the DNC.
Did this experience help clarify your career path? If yes, how so?
Yes, through the loss of the 2016 election there was a sense that the Democratic Party had lost itself. As true as this could be seeing the DNC and all the work that they do to turn that around has increased my passion for Politics. It solidified my future career to work toward the Democratic Party ideals and it was all through this program. The program offered lunch and learns where we were given the opportunity to meet with many people such as Tom Perez and Laura Chambers, and learn from them about their thoughts or experiences through their lifetime. The staff has all been very open and gave us the opportunity to meet one on one with them. I have been able to learn about the programs that are being initiated, the Rules and Bylaws changes that are being proposed, and how to work toward my future goals.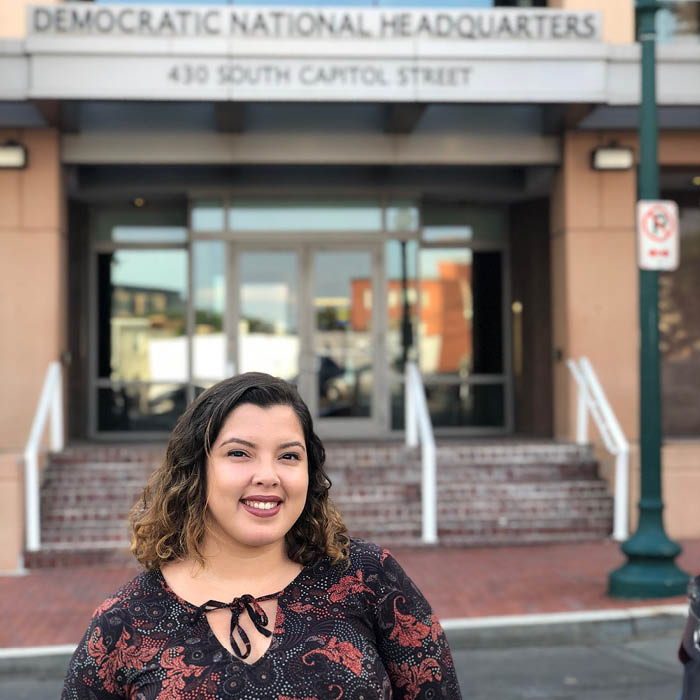 Sabrina Bousbar
"My internship with the Democratic National Committee helped solidify my future."
---
Major: International Affairs and Political Science, Class of 2019
Company/Organization: The Democratic National Committee
LinkedIn: https://www.linkedin.com/in/sabrina-bousbar-463599120/