Describe the steps you took to obtain your internship/research opportunity/fellowship.
 I was given the opportunity to study Primate Behavior and Ecology in Costa Rica through Maderas Rainforest Conservancy (MRC). It was a four-week program at La Suerte Biological Field Station in which I learned how to collect behavioral field data and conducted my own research project on howler monkeys.
Before applying, I went to their website and emailed the teacher, Dr. Laura Bolt, about the course I was interested in for more information about the program, cost, and traveling internationally alone. She was really helpful and answered all my questions about the program. I then applied for the program by submitting an application, one recommendation, the student insurance and waiver form, the application fee, and the medical form. I was informed that I was accepted into the program, via email, around 2 weeks after submitting my application. I did apply for the program early.
Once I was told I was accepted into the program, I began looking for funding to cover the cost of the program and other expenses. Another student informed me of the Gilman Scholarship so after doing further research and working with the Office of National Fellowships at FSU, I applied and received the Benjamin A. Gilman International Scholarship.
How far in advance did you prepare and begin applying for your experiential learning opportunity?
I began searching for summer internships and study abroad opportunities around the end of January 2018. I applied for the primate behavior course through MRC at the end of February 2018 and was notified about my acceptance by the 2nd week of March. My program was set to leave June 25th and return July 14th. The program I applied to was known to have small class sizes and only accepted eleven people for that particular session. It is not necessary to apply as early as I did, but many of the other scholarships and experiential learning programs I was applying for were due in the beginning of March, so I decided to finish this application early as well. By applying early, I gave myself enough time to pay the tuition and gather all the materials I needed for the trip.
I started preparing my application for the Benjamin A. Gilman International Scholarship in the first week of February and submitted the application March 1st. The application to receive funding for the summer is due on March 5th. They do have an early summer application that you can complete in the fall if you already have a summer program you are applying to or want to apply to. I wrote and revised both of my essays for two weeks before working on the other parts of my application. The Assistant Director of the Office of National Fellowships Jese Wieland guided me in this process. He was my study abroad advisor. The application consisted of a statement of purpose essay, a follow-on project proposal, a study abroad advisor certification, details about the program you are requesting funding for, and personal information.
If you used any Career Center services, resources, or events to obtain your internship/research opportunity/fellowship, what were they? How did they support your application process?
The Career Center helped me revise my MRC application essay and my resume before I submitted it. Prior to applying for the study abroad program, I went to numerous events hosted by The Career Center and received help with writing my résumé. One of these events was Résumé Café. They do host a variety of events to help with essay writing, interviewing, and landing internships, fellowships, and research opportunities that will help you advance in your career.
Describe some of your responsibilities or duties during your experiential learning opportunity.
As a student in this program, I was responsible for practicing different behavioral data collection methods on capuchin and howler monkeys. I was also responsible for collecting 40 hours of behavioral data on a research topic of my choice during the duration of my session, then writing a report that discussed my findings. At the end of the program, I had to present my findings to my fellow classmates, teacher, and other researchers that were on site. When I wasn't conducting research, I was learning about various primate species; how they connected on an evolutionary tree, biological aspects of each species and how they differed from other primates, and the basis of animal behavior. I listened to master students and doctoral students, who were also staying on site, discuss their research. I also spent a day helping a doctoral candidate do a habitat characterization in which I studied tree maturity, species richness, and forest structure while practicing vegetation sampling techniques.
What was a typical day like "on the job?"
A typical day would start by waking up at 6 a.m. to make it to breakfast by 7 a.m. Many nights, I woke up before my alarm due to the heavy rains or the howlers howling around the site, being that we were surrounded by the rainforest. I would put on my field clothes, prepare my book bag, and head down for breakfast. After breakfast, I would go into the forest with a small group. You could choose to go by yourself or with a group, but I preferred going with a group because it made finding the monkeys easier and I enjoyed the company. We would typically stay out until 11:30 before we headed back in for lunch. Some days we hiked all morning and collected a lot of data and some days we weren't able to collect any data. It all depends on the monkeys and the weather.
There were also some days where I was behind on data collection so I would choose to skip lunch. After lunch, I typically went back out to collect more data. If I had a good morning of data collection then I would stay in for the afternoon and study for an upcoming test, work on my research paper, relax, or read articles. In the first week and a half of the program, we had class every afternoon before dinner, but after we got into our data collection, we no longer had classes. We had dinner at 6 p.m. every day and then after that we could choose how we wanted to spend our evenings. Most evenings, I would spend time talking with my classmates or playing various games. I would also listen to music, read, or work on my paper before heading to bed. During my session, there was a problem with the Wi-Fi so there was no internet for the four weeks I was there.
What are some major takeaways from your experience? How will these help prepare you for the next step after graduation?
One the most important takeaways I got from this experience was that conducting field research on primates is not as easy as it seems. Depending on the primate, they may constantly move, the weather conditions are not always perfect, and some days you may not collect any data at all. You have to have patience. I learned how to conduct field research, which is helpful when applying for graduate schools for primatology or animal behavior. This can also be helpful when applying for research positions because it puts me one step ahead of other applicants.
I learned to never be afraid to take a leap and go outside your comfort zone. This was my first time traveling internationally alone, I didn't know any of the other students beforehand, and it was my first time doing field research. I was nervous at first, but I am beyond thankful for the experience and for receiving the scholarship from Gilman that made this experience possible. This experience was a break from a life I had grown to know. I learned about a different culture and how people lived in the area, I met people from all over the U.S. and Canada, I disconnected from social media, I lived similar to a local, and focused on the important aspects of life. This all taught me how to be an independent individual, to be thankful for what I have, and to stay focused and work hard no matter the challenges you face in life. I feel like these are all important takeaways for life after graduation.  
Did this experience help clarify your career path? If yes, how so?
This experience did help me clarify my career path. Prior to going to Costa Rica, I thought I wanted to get a Ph.D. in primatology or a similar field of study and conduct field research. I was planning to apply for graduate school in December so that I could start next fall. After my return to the states, I decided that although I love primates, I don't know if I wanted to pursue a Ph.D. in that field. I would still like to go to graduate school, but I know that I do not want to conduct field research on New World Monkeys. If I did decide to conduct field research, I would focus on Old World Monkeys or apes. I had also decided I wanted to wait before applying to graduate school until I decided what field of study I wanted to focus on.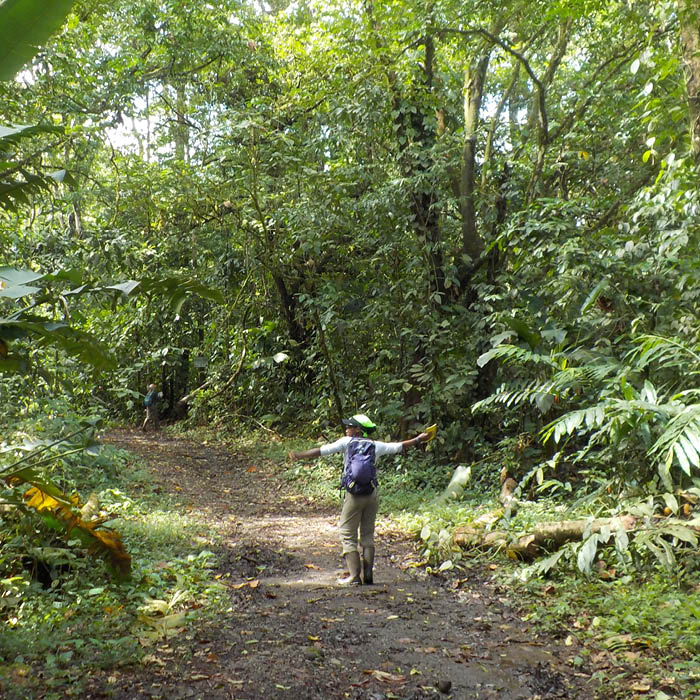 Seriana Gamble
"I am beyond thankful for this field research experience and for receiving the Benjamin A. Gilman International Scholarship that made this experience possible."
---
Major: Psychology, Class of 2018
Company/Organization: Maderas Rainforest Conservancy