2016 Portfolio Contest Winners
Pictured from left to right: Brittany Sinitch (First Place Undergraduate) and Talise Burton (Third Place). Not pictured: Felisha Dake (First Place Graduate) and Yi-Wen Wei (Second Place).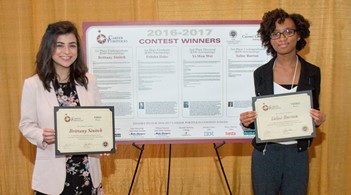 Special Thanks to our Sponsor, Speedway

---
2016 First Place Graduate Portfolio - FELISHA DAKE
Felisha is a second year graduate student in the Master of Science in Science Teaching program and the Doctor of Philosophy in Curriculum and Instruction program. She is grateful for the opportunities these programs provide her with to engage with students of all backgrounds and ages. Working with these students opened her eyes to the realities of the educational system and allowed her to better identify with students' experiences in science. She hopes to encourage science teachers to attend to student ideas and sense-making experiences in the classroom. Her dream career involves working closely with students to continue finding ways to improve their understanding of science and make science more enjoyable. The process of completing her Career Portfolio allowed her the opportunity to reflect on her experiences and discover which opportunities and skills will benefit her the most in her future career.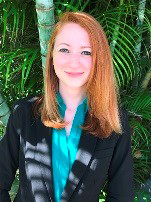 2016 First Place Undergraduate Portfolio - BRITTANY SINITCH
Brittany is a senior studying English Education. She has wanted to pursue a teaching career for as long as she can remember. Her goal as an educator is to inspire students to find their voice and discover their full potential both inside and outside of the classroom. With her drive, pedagogical knowledge and organizational skills necessary to be a teacher, she believes that she can help make a difference in the classroom. Eventually, she hopes to become AP board certified in order to give students the opportunity to gain skills and experiences colleges recognize. Becoming the Department Head of an English Department is a dream of hers, as she hopes to be able to voice her opinion and use her communication, teamwork, and leadership skills to benefit her department's team.  Her Career Portfolio has helped her organize her experience and accomplishments in the education field, which demonstrates her passion for teaching.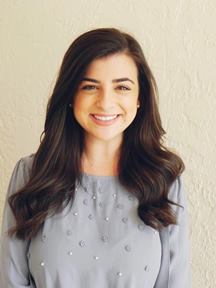 2016 Second Place - YI-WEN WEI
This Yi-Wen's fourth year of doctoral study in the department of Art Education. Her career goal is to become a professor in Art Education. She likes to learn about people in different cultures and understand their various ways of making art and communicating meanings. She hopes to contribute her knowledge to the field. The Career Portfolio helped her organize and highlight her professional experiences in relation to art education. It also helped her to learn more about her strengths and to reflect on her weaknesses in terms of pursuing her career goals. She is very happy that she created her portfolio for the Career Portfolio contest.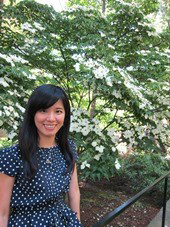 2016 Third Place - TALISE BURTON
Talise is a junior Creative Writing major and Entrepreneurship minor. Her lifelong goal is to become a successful bestselling author and to gain an internship within the publishing field so she can eventually develop her own publishing company. By showcasing her successes and experiences in the Career Portfolio she hopes to motivate students, especially those majoring within the humanities, to gain and showcase their own skills and experiences in pursuit of their career and lifelong ambitions.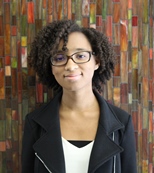 ---
Appreciation is expressed to our judges:
Teri-Anne Brennan

Kevin Gordon

Sade Hemmings

William Kearney

Jamesha Littles

Marco Marotta

Danielle Mathena