Describe some of the steps you took to obtain your internship.
I heard about the internship at Raymond James from a connection I have with a manager in another department. So, I reached out to her for information regarding the recruiting process and to help critique my resume and cover sheet. My parents also helped look other those as well and gave me some mock interviews.
Describe some of your responsibilities or duties during the internship experience.
I've interned with Raymond James in Accounts Payable over the past three summers. When I was still in high school, my responsibilities mainly included making sure checks were picked up on time, answering phones, sorting physical files, and other miscellaneous work. Once I entered college I kept those responsibilities as well as a little more data entry and auditing employees' payment requests, which is a task that I shared with three other employees.
What was a typical day like?
I was lucky enough to work in a department that has a decently flexible schedule, so I chose to come in at the 8 o'clock shift to avoid traffic. Most employees aren't in at the that time so in the morning I would usually email employees if they hadn't picked up their checks, and do any miscellaneous scanning or filing assigned to me, check email, etc. Then, I would work on the payment request queue. There's usually a large influx at the end of the month, so sometimes the queue would be upwards of 500. With only 4 employees working on it and managing their other roles it can seem overwhelming. I made a habit of recording how many requests I completed, how many were in the total queue, and how long we were taking to process them; that really helped me feel like I was making progress. Then around lunch I might have a meeting with the other interns or with a manager, and I would either continue working on the queue or any other task assigned.
What are some major takeaways from your experience? How will these help prepare you for the next step after graduation?
I think the biggest thing I learned from my experience at Raymond James is the value of networking and company culture. I had wonderful managers and the recruiting team to help me set up meetings with other managers just to chat. I probably met with upwards of 30 managers and the COO and CFO of Accounting. I had one-on-one conversations for 30 minutes to an hour with every one of them just to ask about their career path, their satisfaction with their job, and why they chose Raymond James. Being an Accounting and Finance major provides so many different opportunities that it sometimes seems paralyzing to choose one field or one department so talking to real people, real Raymond James Success Stories, about their decisions was absolutely invaluable.
Did this experience help clarify your career path? How so?
Before interning with Raymond James, I interned with very small offices for different companies which dealt with tax and financial advising. I learned that I love working in the larger environment that Raymond James offers. Meeting with so many people from different departments gave me a pretty broad understanding of the firm really helped me to narrow down the departments for which I would prefer to work.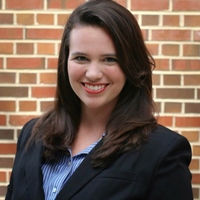 Lauren Miele
"I think the biggest thing I learned from my experience at Raymond James is the value of networking and company culture."
---
Major: Accounting and Finance, Class of 2018
Internship Experience: Raymond James Financial, Inc., Summer 2016