Describe some of the steps you took to obtain your internship.
I attended and worked for the festival during previous summers, so first I asked my contacts at the Festival which positions were open, and which they felt I would work best in.
Describe some of your responsibilities or duties during the internship experience.
During my internship, I was responsible for delegating tasks for student ushers and perking crew, setting up the front of house before concerts, tearing down after concerts, introducing guest speakers to an audience, and assisting patrons throughout the entirety of their experience. 
What was a typical day like?
Typically, I arrive at the concert hall two hours early, around 6 p.m., and begin arranging the front of house and coordinating with the backstage crew on any extra procedures or tasks for the evening. About an hour later, student ushers and parking crew arrive and my manager and I would delegate tasks and oversee them the rest of the night. I communicate with backstage to open and close doors for the beginning of the concert, intermission, and the end. After the concert, we take down all signs, decorative material, and help patrons with any last minute requests or problems.
What are some major takeaways from your experience? How will these help prepare you for the next step after graduation?
By working with other staff members, I was able to see how a classical music festival is run, and what challenges and rewards it offers. I found that I really enjoyed working with patrons, and I would like a job in the future that allows me to work with a lot of different people. As I prepare for graduate school and search for jobs, I will definitely look for a job with a lot of human interaction.
Did this experience help clarify your career path? How so?
It did, because I learned how much I like helping and working with people. However, I don't think I'll be looking for a House Manager career in the future. Working in the front of house meant I had to show up for almost every concert, but I do not get to listen to them, and waiting for intermission or for the concert to finish could get pretty tiring. I think I would like a faster paced career.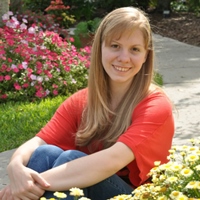 Meredith Mank
"Through this internship, I found that I really enjoy working with patrons, and I would like a job in the future that allows me to work with a lot of different people."
---
Major: Music, Class of 2017
Internship Experience: Eastern Music Festival, Greensboro, NC