Describe some of the steps you took to obtain your internship.
Because they are in the business of construction and real estate, my family works closely with the local government often, and they have personal connections with many people who work there, including the City Manager. With my family's help, I was granted the opportunity to job shadow in many different departments at the city for a day. Afterwards, I inquired about an internship, and I was placed working for the city's Public Information Officer for the summer.
If you used any Career Center services or events to obtain the internship, what were they? How did these help you in landing the internship?
I didn't find this internship through The Career Center, but The Career Center's website offered me great tips on how to make the most of my internship, which I applied throughout my time working at the City of Clermont.
Describe some of your responsibilities or duties during the internship experience.
One of the reasons I really appreciate my mentor during this internship was because she didn't have me doing many mundane, everyday tasks. She wanted to make sure I was using and applying my skills as best as I could, so most of the time I was given the responsibility of working on the graphic design of marketing materials to be used in some of the city's public campaigns, for example a campaign intended to increase recycling rates among residents.
What was a typical day like?
After getting to the office, I would often spend some time observing my mentor as she sat down to check emails, respond to calls and messages from local media sources, and meet with her coworkers from all different departments about what the day entailed. Every day of this internship was different and exciting, some days there were large meetings taking place that I was allowed to sit in on, sometimes the day involved driving out to different locations, such as the local theatre complex or the police station to check up on how things were going. I always kept busy!
What are some major takeaways from your experience? How will these help prepare you for the next step after graduation?
I think this internship really opened my eyes to the possibility of working in the public sector. I had never really considered it before, but there is a lot of rewarding and meaningful work to be done, and so much is happening inside City Hall. I wouldn't have considered a marketing major to eventually land me a job working in government, but this internship helped me see that this is a very viable career option and it opened up a new world of possibilities for me.
Did this experience help clarify your career path? How so?
This internship is primary the reason I made the decision to change my major to marketing. It helped me to see the possibilities that exist in the world of working for local government, which is a place I honestly could see myself working in a few years.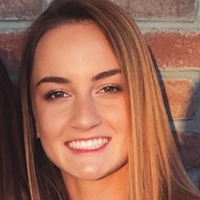 Sydney Fallman
"This internship really opened my eyes to the possibility of working in the public sector, which opened up a new world of possibilities for me."
---
Major: Marketing, Class of 2019
Internship Experience: City of Clermont